After a bit of study, it now appears that our assumption about inelastic scattering, especially as it relates to fluorine (see preceding posts), was completely mistaken.
This ENDF plot compares the two types of neutron scattering x-sections (elastic & non-elastic) of both F19 and U238 (as in NU) to absorbtion and fission x-sections of U238.....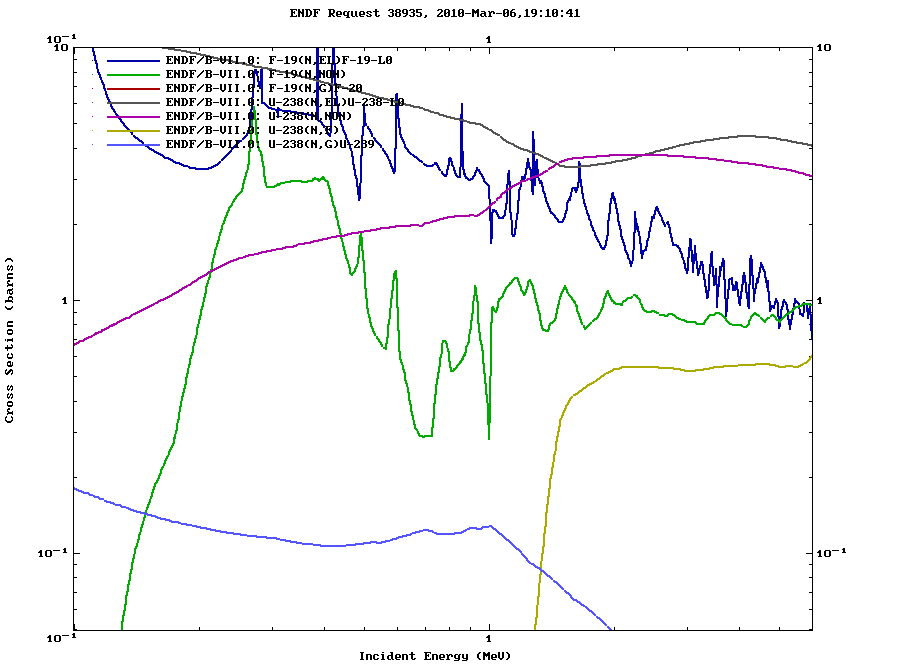 In both scattering cases, U238 is comparable, though generally higher than F19.
Also, a neutron scattered elastically by U238 loses almost NO energy, so its as though the scatter event never happened.
Only the inelastic scatter is of any significance.
More importantly, all scattering x-sections are higher than radiative capture of U238, from at least ~0.1MeV to 6MeV +
However, its important to remember that
inelastic neutron scattering only has a significant effect on neutron energy when the target is a heavy nucleus.
Thus for an inelastic collision of a 2MeV neutron with a U238 nucleus, the neutron energy drops to 0.6MeV on average (using the formula E' = 6.4* sqrt(E/A), where A is the mass number).
For F19, the result of an inelastic neutron collision is about the same as an elastic one, for energies below about 2.5MeV !
(for the more extreme case of a 6MeV neutron, it drops to about 3.6MeV)
For U238, the scattering x-section is higher than fission (~3.5b VERSUS ~0.5b), even for energies > 1.5 MeV
But in NU (or SEU) the vast majority of HM nuclei are U238, so still a good chance for fission, after a few bounces, mainly with fluorine.
The fissile nuclei Pu239 & Pu241 have a fission x-section some 3 to 4 times higher than U238, and down to ~0.8MeV -- as do the "fissionable" nuclei (Pu238, 240 & 242).
U235 is only about 2.5 times higher for fission than U238.
But the concentration of all these is low in the fuel channel compared to U238.
In conclusion, it looks like there is a decent chance of U238 fission, even with all the different kinds of collisions.
After a few bounces inside a fuel channel, an un-absorbed neutron goes out into the surrounding D2O moderator, for a quick trip down the energy spectrum, to very low thermal energy (0.025 eV).
By contrast, the resonance absorbtion region for U238 extends only from about 5eV to 20,000eV.
The size of the fuel channels must be optimised such that the great majority of moderation in this energy range takes place in the surrounding D2O.