Cyril R wrote:
Elastic scattering isn't the issue, its inelastic. Chlorine is very low, while fluorine, iodine and bromine are all very significant. This means your neutrons will quickly lose their fast spectrum and accumulate likely somewhere in bad resonance regions. To get the fullest from a fast spectrum you need a homogeneous very fast spectrum, because you want to get to the eta and fast fission 'thresholds'.
Comparing fast neutron inelastric scattering x-sections for various nuclides, one quickly finds that the dominant one is U238, while F19 is not that different from Na23 :
Since SFRs contain a good deal of stainless steel – besides the Na23 coolant – a comparison with Fe and Ni is also appropriate.
Again, not a lot of difference :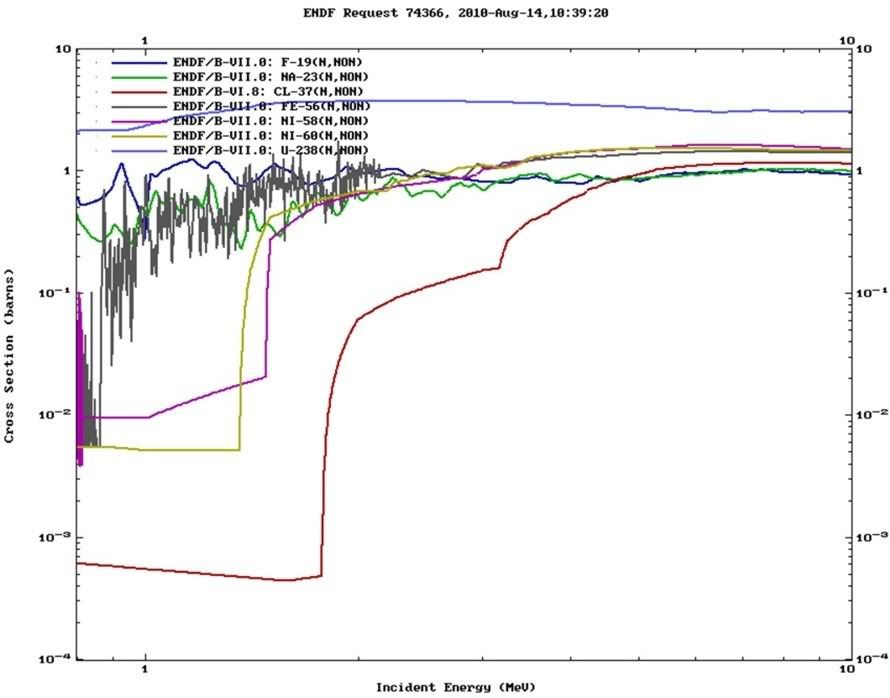 Finally, a look at some of the alternative liquid metal coolants, Bi and Pb :
.....even with a gas-cooled fast reactor, one would still have the inelastic scattering from U238 (plus alloying elements).
Cyril R wrote:
There are actually medical treatment moderators employing fluorine (IIRC Teflon) to quickly get out of the MeV region.
This appears to be a reference to BNCT (Boron Neutron Capture Therapy).
The ideal neutron flux in this instance is epithermal : the patented "Fluental" material is not a moderator – rather, it is commonly referred to as a filter, because the nuclide mass of the elements in the material are such that BOTH fast and thermal neutrons are largely eliminated from the outlet stream.
In the early years of BNCT development, only thermal neutrons were used, as they came out from a pool-type (water moderated) research reactor.
This had the unfortunate consequence of burning the patients' skin, while delivering an inadequate neutron flux to the boron-laced tumour – with predictably poor therapeutic results.
Water moderated research reactors are still the mainstay of BNCT research (with one exception), only today they replace the water between the reactor core and the hole in the pool wall with Fluental – so as to AVOID over-moderating the neutron flux : it is not "to quickly get out of the MeV region".